Case Study
Senator Chris Murphy 2018
In today's elections, digital touches everything. From fundraising, to field, to complementing traditional communications strategies, your digital program works best when it's integrated into the DNA of your campaign from the very beginning.
In today's elections, digital touches everything. From fundraising, to field, to complementing traditional communications strategies, your digital program works best when it's integrated into the DNA of your campaign from the very beginning.
As a young progressive leader in the United States Senate, Chris Murphy gets that better than most. We've worked for Senator Murphy for almost a decade, including his first Senate victory. It wasn't long after the 2016 election that we started our work directly with him to set a plan in motion that would drive results for his re-election.
Direct Response Advertising & Fundraising
So much of online fundraising is about taking advantage of and maximizing your moments. Everything between those moments can be a real grind when it comes to raising money online. But if you catch your wave and make the most of it, the results can pay dividends for days, months, and even years. That's what happened on Senator Murphy's campaign.
Shortly after Trump's election, people across the country had an insatiable appetite to act. Senator Murphy was eager connect with those people, open up a dialogue, and invite them into his campaign. We also knew it was a golden opportunity to build an email list that would deliver great results.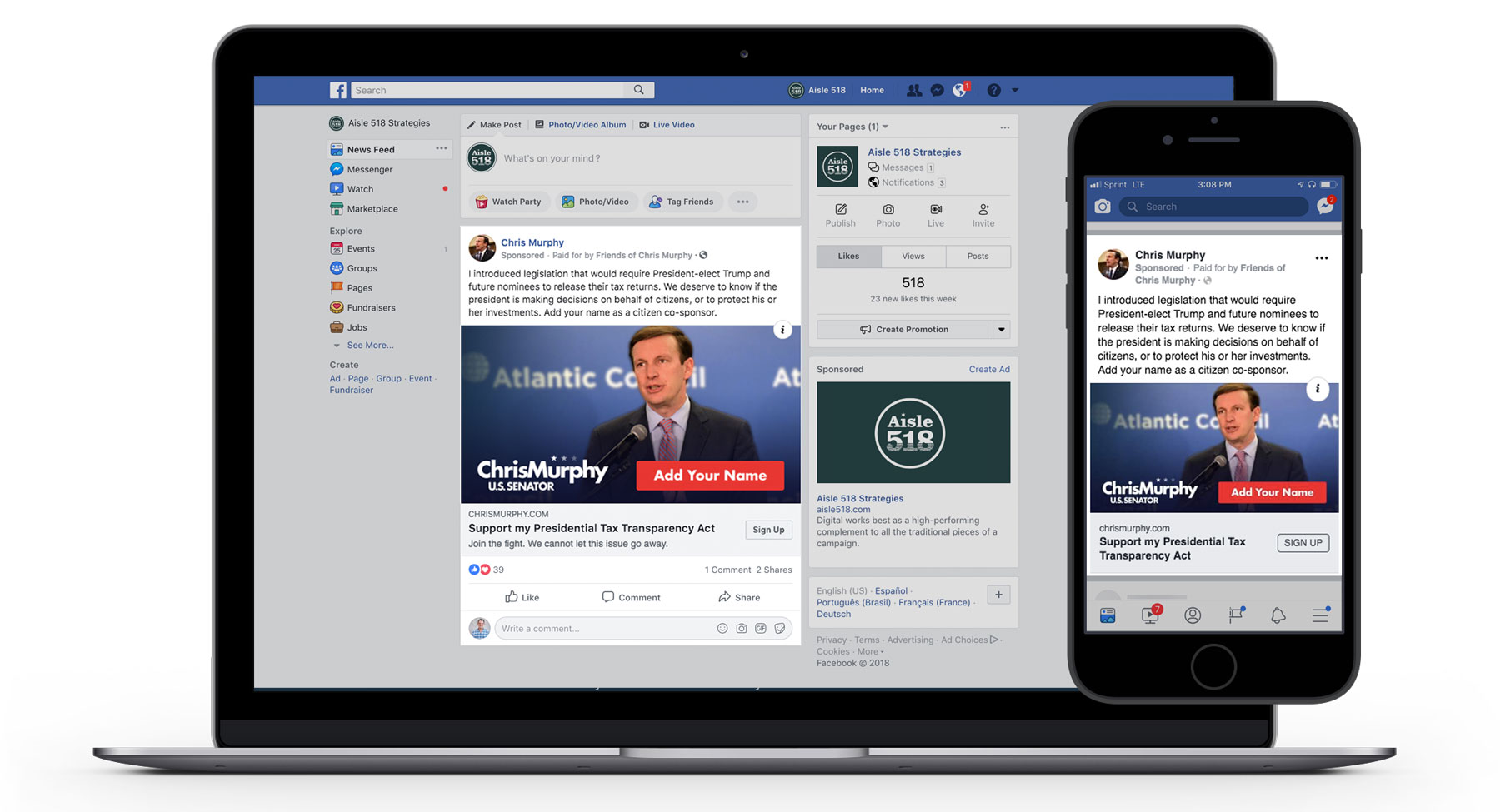 Over the course of three months, from December 2016 to February 2017, Senator Murphy's campaign spent almost $400,000 in direct response, email acquisition advertising. Those names would serve as the foundation for the small-dollar fundraising program, returning more than $2.5 million over the life of the campaign.
Maximizing moments is just as true in email programs as it is for ads, and in that first quarter of 2017, Senator Murphy found himself in a "moment."
The authenticity of his voice on social media, and especially on Twitter where he wrote his own content, connected with activists in Connecticut and across the country who were looking for leadership and direction after the presidential election. His appearances on cable news helped to create a relationship with the activists who were also reading our emails on a daily basis.
Through that synergy between smart acquisition, leadership, and an authentic voice across channels, Senator Murphy raised more than $2 million in online, small-dollar donations in Q1 2017 and had the third most individual donations of any sitting Senator or challenger running for U.S. Senate.
Email & Fundraising
Even in the 2018 campaign cycle, email drove the vast majority of online, small-dollar fundraising. That is just as true for Chris Murphy as it is for Bernie Sanders and Donald Trump.
But Senator Murphy wanted to run his email program differently. The truth is, there is a lot of competition in people's inboxes — much of it wild and frantic doom-and-gloom appeals filled with half-truths or misleading claims of quadruple matches.
The bet we made with Senator Murphy, and with all of our clients, is that if we engage people with timely, creative, and compelling content that meets people were they are and on the issues they care about, we would raise the bar on what was possible.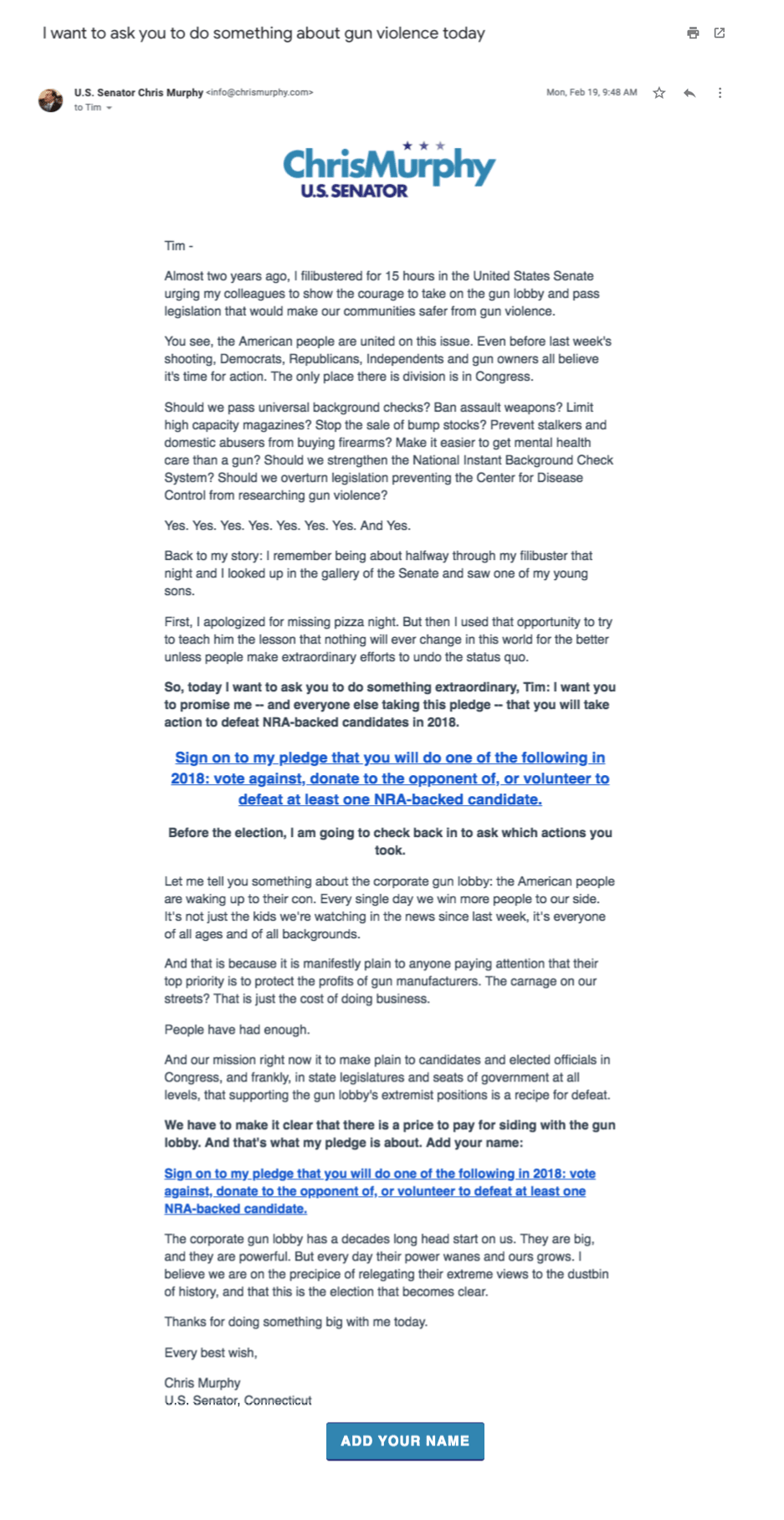 And it worked.
By the time the votes were cast and counted, Senator Murphy's small-dollar email program was the single greatest source of fundraising for the campaign. And we did it by being creative with our content and data-driven with our decisions — what we believe is the best possible way to run a fundraising program.
Fundraising Innovation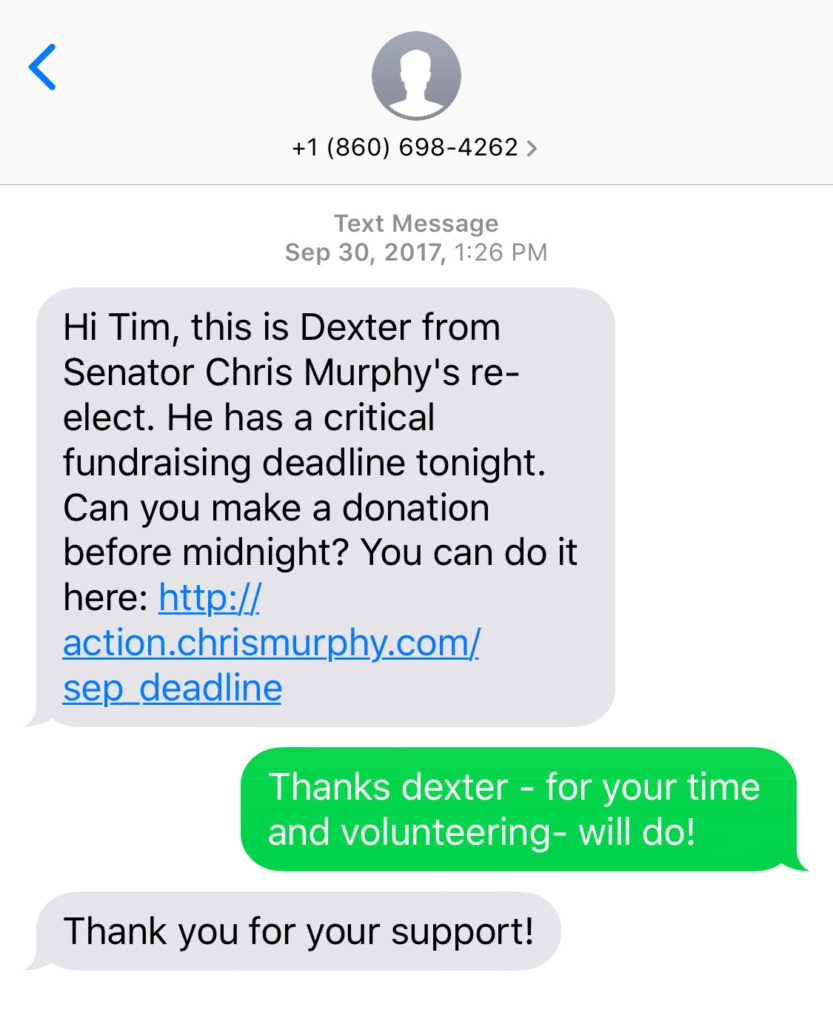 But just because everyone knows email remains king when it comes to small-dollar fundraising doesn't mean campaigns shouldn't be exploring alternative channels to raise money.
Senator Murphy was the first campaign to use peer-to-peer fundraising to raise small-dollar donations at scale for a campaign. During the end of Q1 2017, we ran tests to determine whether peer-to-peer texting could drive significant amounts of revenue, and what its impact would be in conjunction with email.
We learned it worked. It worked real well. But we also learned a few more important things about how it worked best through our testing.
We also raised hundreds of thousands of dollars for ourselves and for other candidates using social media, especially Twitter, and we did it without inundating our supporters with relentless social media posts asking for money.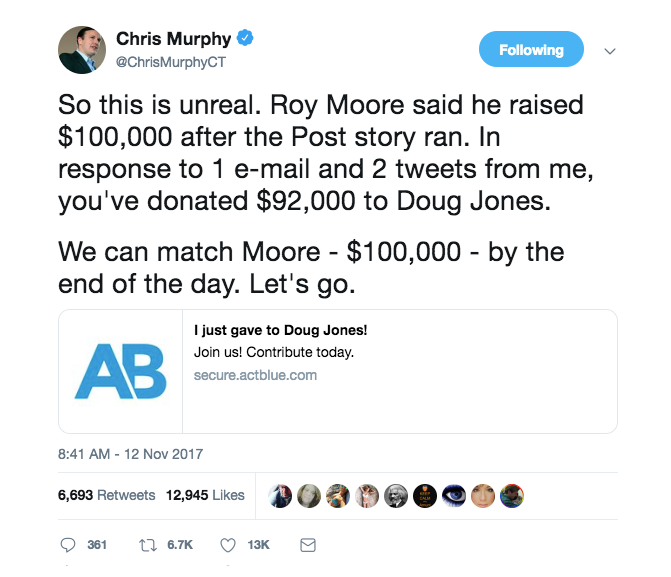 That tweet raised $50,000 and we were inspired to send it when we recognized we were in a big moment after an email raising for Doug Jones performed well above average.
Organizing
One of the great lessons we learned on Bernie Sanders 2016 campaign is that if you ask people to do big and important things for your campaign, and you give them the tools, training and technology to do just that, they will respond. We learned that there are countless people out there who have experience organizing in their communities — whether it's on past presidential campaigns or through groups like Indivisible — and if you trust them, they can and will do jobs traditionally reserved for paid staff. And they will do them well.
That approach is also one of the only ways to get to the scale possible in a large organizing campaign.
So shortly after the 2016 election, we approached Senator Murphy with the idea to run a "distributed organizing" program in Connecticut. He replied that he had actually been thinking about the same thing.
Shortly after, one of the most innovative field efforts of the 2018 election was born.
We worked with Senator Murphy to create the plans, hire the staff, and organize a first series of organizing meetings across the state — almost 100 volunteer-created events in just 3 weeks time with more than 2,000 individual RSVPs.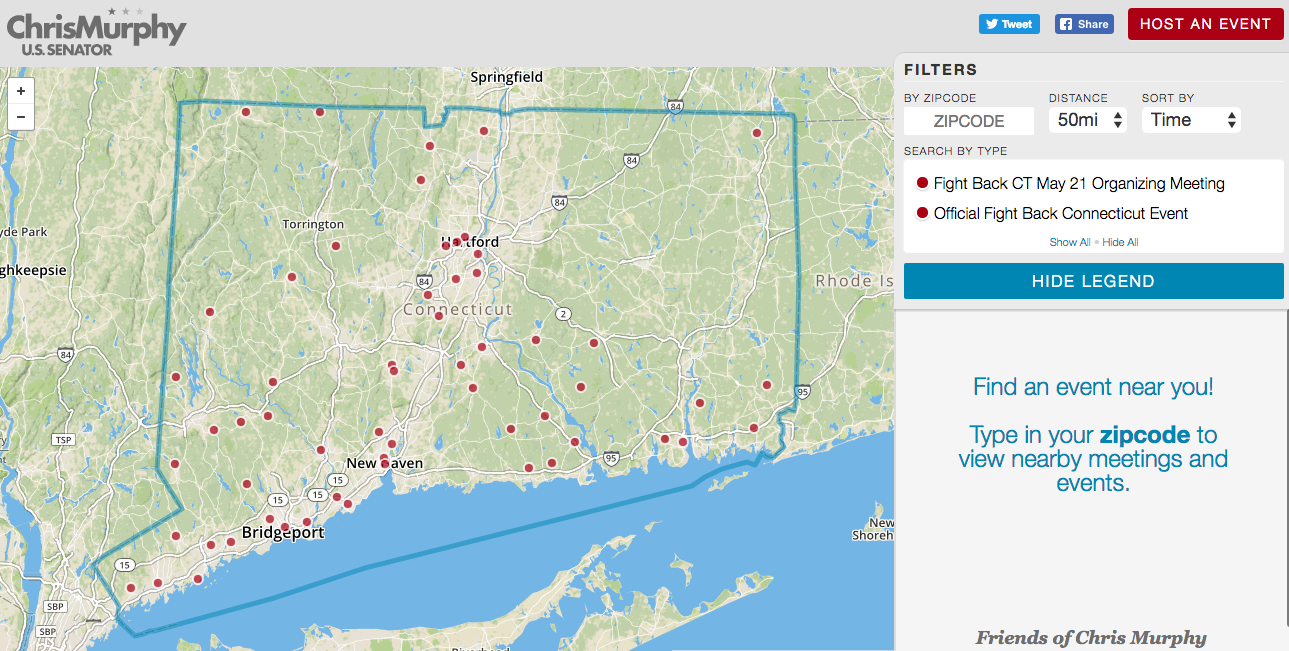 That program was the genesis of a field program that relied on developing volunteer capacity at its core, and ended as the largest organized field campaign in the history of Connecticut — one that lifted Democrats to victory in close races all across the state.
And there is nothing to say it has to stop now the campaign is complete.
Persuasion and Mobilization Online Advertising
Television advertising is important, but the amount of time people are spending watching the medium continues to wane as people spend more and more of their time online, or at worst on two devices at once.
In 2018, Aisle 518 Strategies executed complex and highly targeted persuasion and GOTV programs for Senator Chris Murphy's (CT-D) reelection campaign. And we did it by taking the time to create unique, creative and targeted online ads.
Using data collected from several polls and analyses of voter history, demographics and priorities by geographic location, we were able to identify voters that we deemed persuadable and low turnout Democrats that we were determined to get to the polls — and we were able to reach them on issues we knew were relevant to their lives with a mixture of high quality static ads, animations, and preroll through several platforms.
From Facebook and Snapchat to our access to several ad exchange networks and placements on premium networks like Hulu and Youtube, we were essentially able to follow our targets all over the internet, serving each individual with enough impressions per-week to move the needle in our favor.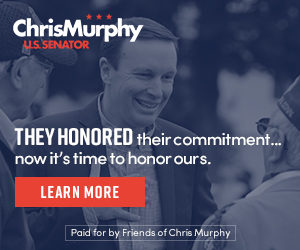 Our ads not only showcased the tremendous accomplishments of Senator Murphy during his time in office, we were also determined to portray his sincere dedication to hearing the voices of his constituents, and being a strong advocate for them in Washington.
We know that the best online ad programs do much more than just repurposing the 30-second television ads into 15-second spots. We took the time and did the work to get it right. And that's what we do for all of our clients.
Website – GOTV
As interest in the election was set to rise and people prepared to vote in Connecticut, we built out a very light-weight election resource center. The slick website pulled in iWillVote data so people could easily find their polling place. It helped people find out if they were were registered, and included information about same-day registration locations if they weren't. Finally, the site we built easily plugged people into volunteer opportunities and showed our best-testing video ad of the re-election campaign. Over the final 48 hours of the campaign, more than 15,000 people visited the site and used the tools.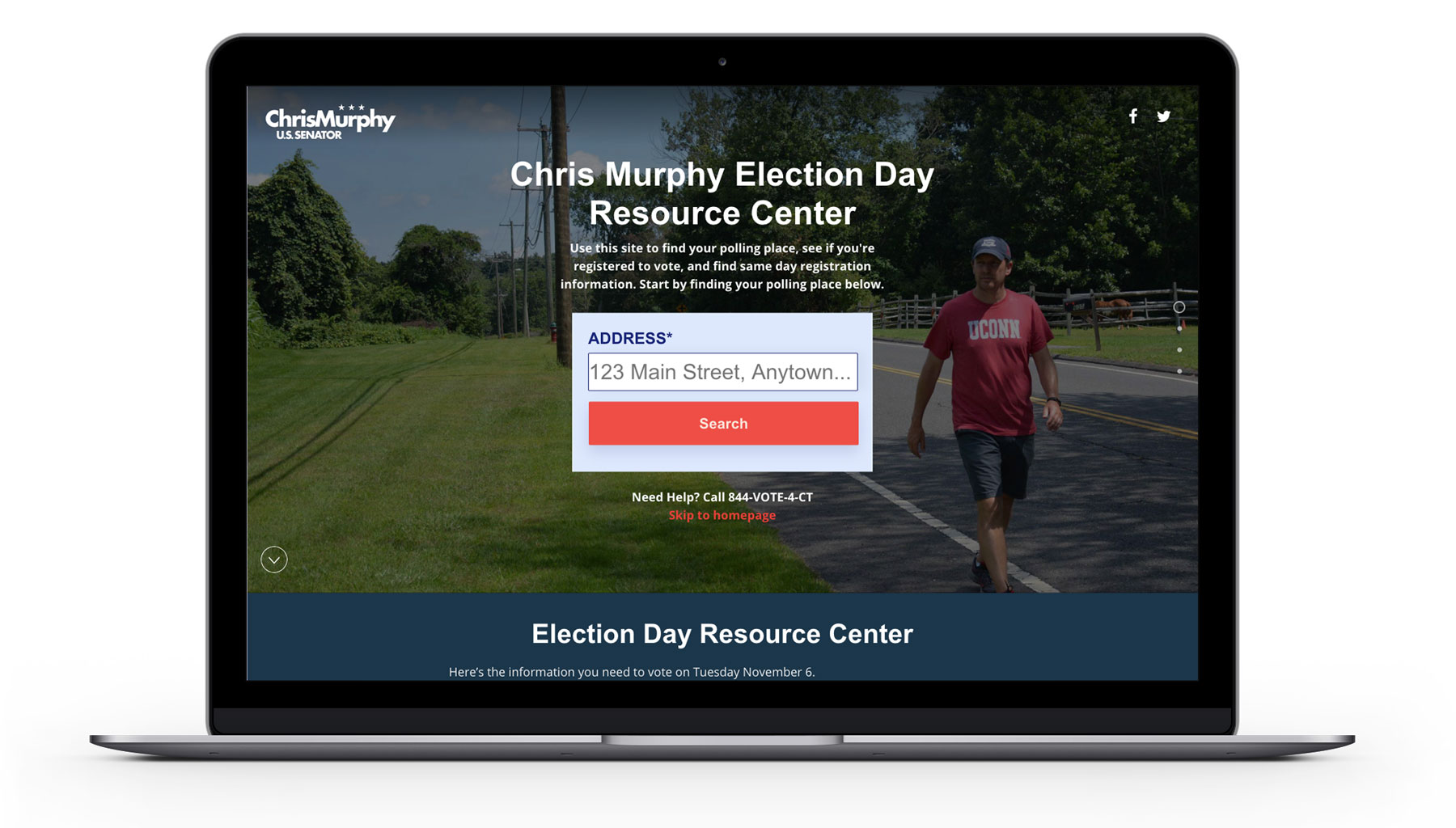 Summary
On November 6, only a few moments after the polls closed, we celebrated Chris Murphy's overwhelming re-election to the United States Senate. His early investment and commitment to running a digtal-first campaign was evident throughout in the numbers we produced and in his margin of victory. He was even the first incumbent U.S. Senator to hire a campaign manager that came from a distinctly digital background.
We were proud to be a part of Senator Murphy's victory and to be part of Team Murphy since 2010.
If you'd like to talk more about the work we can do to help you build out a comprehensive digital operation that is baked into the DNA of your organization from the start, please email ttagaris@aisle518.com.