Case Study
Bernie Sanders 2020 Presidential Campaign
Modern political campaigns are digital campaigns. Every day from your launch through Election Day, your digital program will reach more people and raise more money than any other aspect of your campaign.
More than any other candidate, Bernie Sanders understood the power of digital to engage and empower a national movement. In the 2020 primary, the Aisle 518 Strategies team was embedded in the campaign from day one. That meant working out of the national campaign headquarters every day, managing staff, and being a part of the core leadership team with the candidate and five others.
---
Fundraising
When we launched Bernie's 2020 campaign for president, we knew that the only way he would be able to compete financially in the race was from lots of people making small donations. By the time the campaign ended, we had raised more money than any other candidate in the primary and from significantly more individual donations than anyone else in the race — more than 10 million donations by Super Tuesday, a record for donations in presidential primary campaign history.
What these fundraising results show — and what Bernie's campaign proved — is that when a candidate shows they are ready to fight for an agenda that works for everyone, working people will come together in large numbers to support the campaign. Our job was, in part, to channel that willingness to participate into financial support.
Campaign Toplines
$203,753,477

Raised for the campaign

10,511,585

individual Donations

2,000,000

grassroots donors

98%

Raised online
With a lower average donation of $19.38, the 2020 campaign was arguably more grassroots than the revolutionary 2016 campaign, which became known for its donation average of $27.
Campaign Launch
$6 million raised in first 24 hours of the campaign from more than 225,000 donors
Less than a week after launching, 1 million people signed up to say they were with Bernie
Email
The email program primarily relied on two main pillars: focusing on the progressive agenda at the center of the campaign and communicating the power of small-dollar donations in helping to advance that agenda and making it possible for Bernie to effectively compete in the primary.
We designed and sent highly personalized emails that acknowledged the ways supporters had engaged with the campaign. During the campaign, Bernie talked a lot about building a movement, so we thought it was important to show his supporters how they were a part of that movement.
Many emails leveraged supporter data to help us tell a personal story connecting individual actions to their role in the broader movement.
Number of Donations

Total Given

Date of First Donation

Petition & Survey Responses

Volunteer Calls Made & Texts Sent

Events Hosted or Attended

Promotional Items Received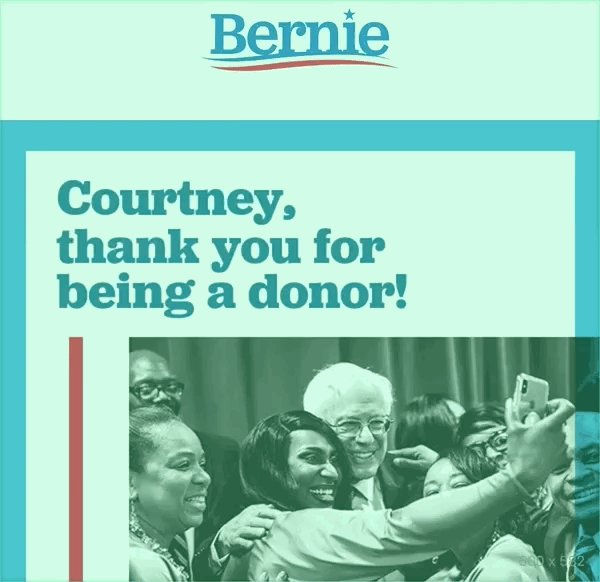 Check out some of our example emails.
Bernard Sanders
You deserve an explanation.
Bernie Sanders
I am asking you to add your name in support of my Medicare for All bill
Faiz Shakir, BernieSanders.com
1,000,000
Bernie Sanders
I trust you, Sabrina
Bernie Sanders
I am writing to ask if you can make another $15 contribution to our campaign today — especially today — to help us run the kind of campaign that will not only win this primary, but defeat Donald Trump. Link inside. - Bernie
BernieSanders.com
5,000,000
Bernie Sanders
Green New Deal
SMS
Over the course of the campaign, we were the only ones in the Democratic primary to leverage mass text messaging to its fullest potential as a fundraising tool. We began building the mass text list early on so that by the time the primary was in full swing, we could reach hundreds of thousands of Bernie's supporters with a single click of a button.
2,014,071
Donations via SMS
$29,941,337.89
Total Raised via SMS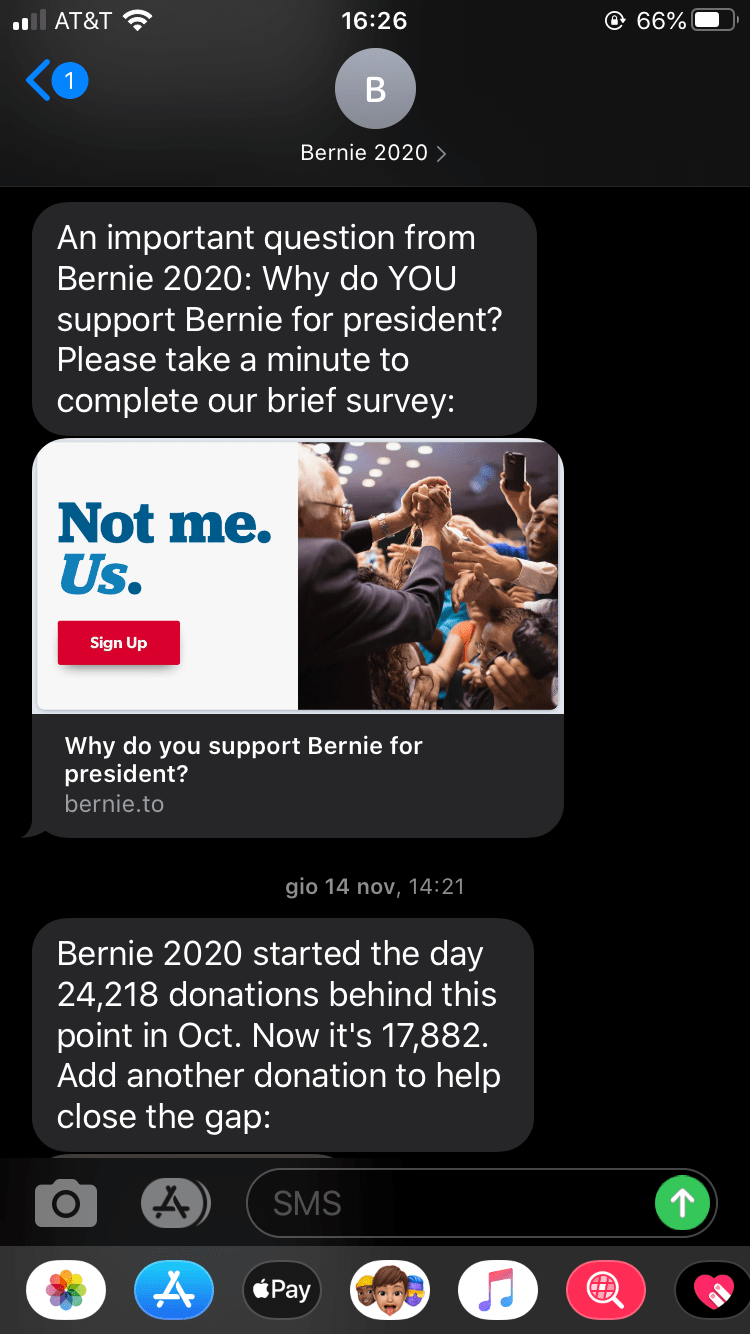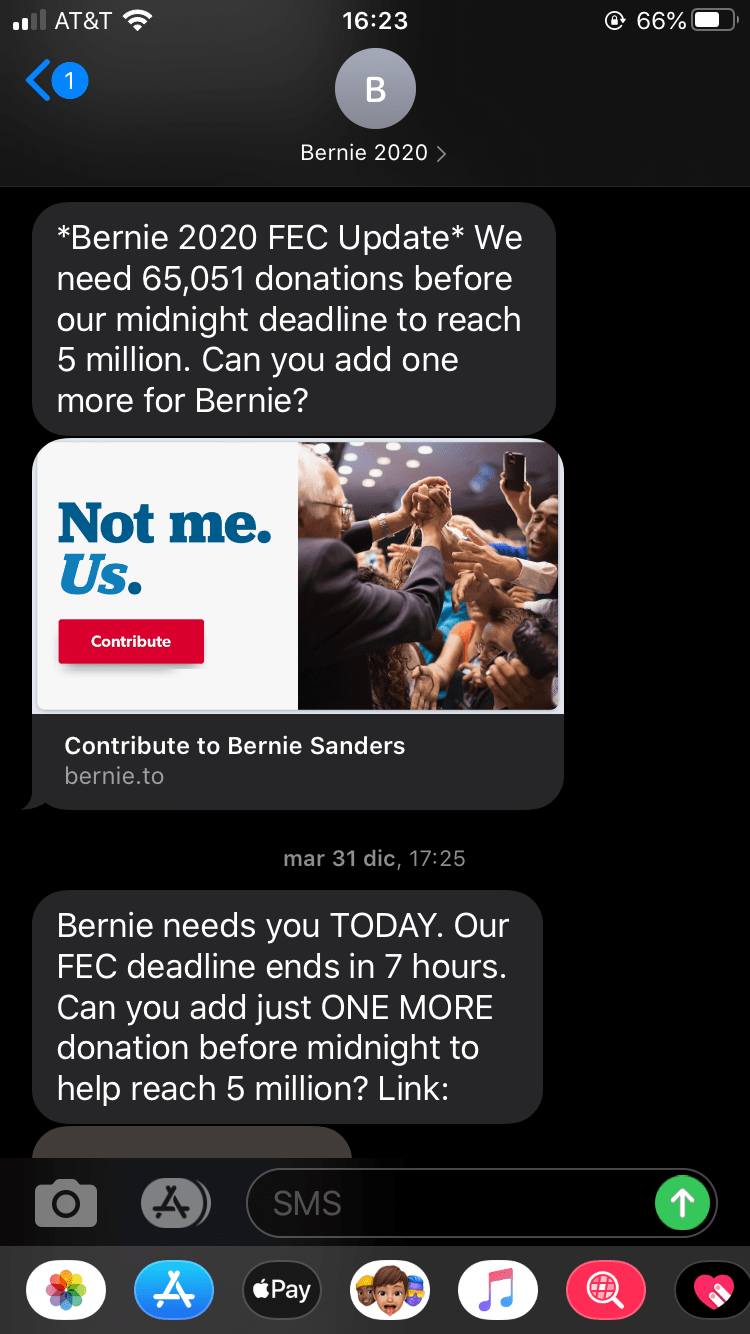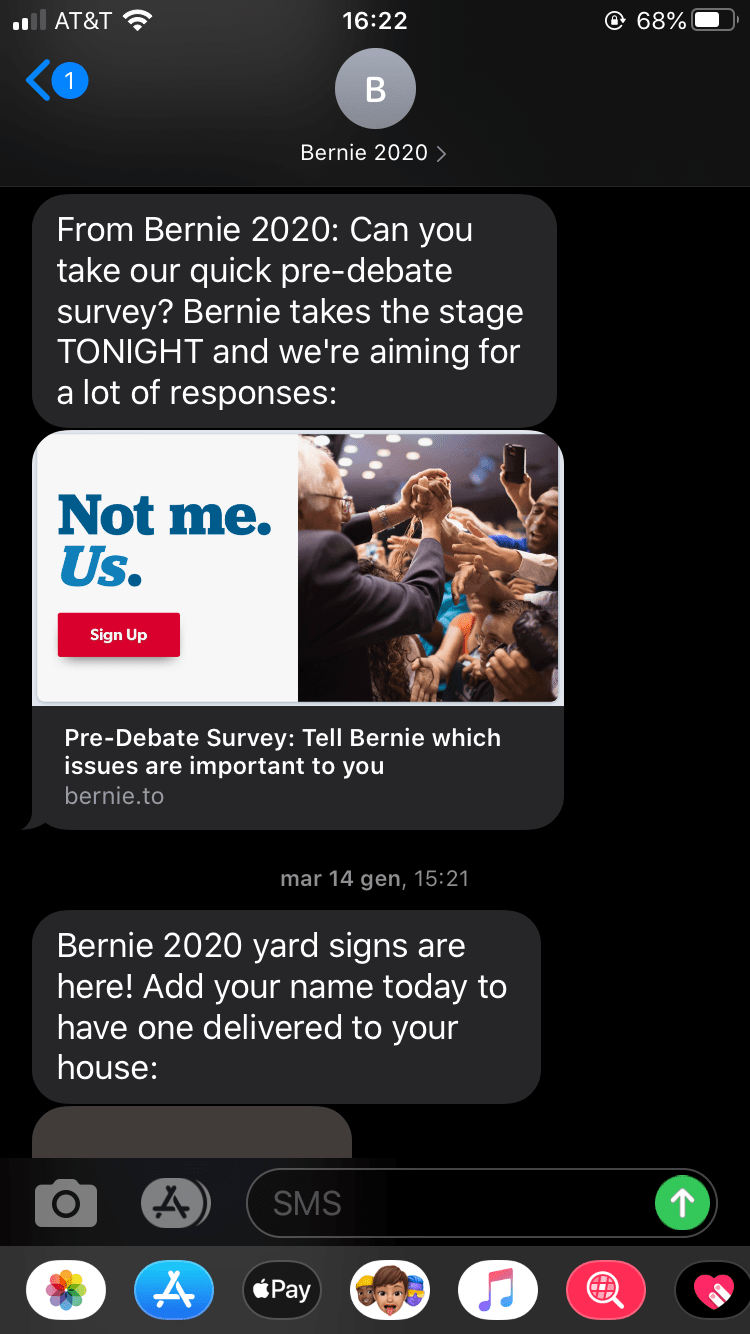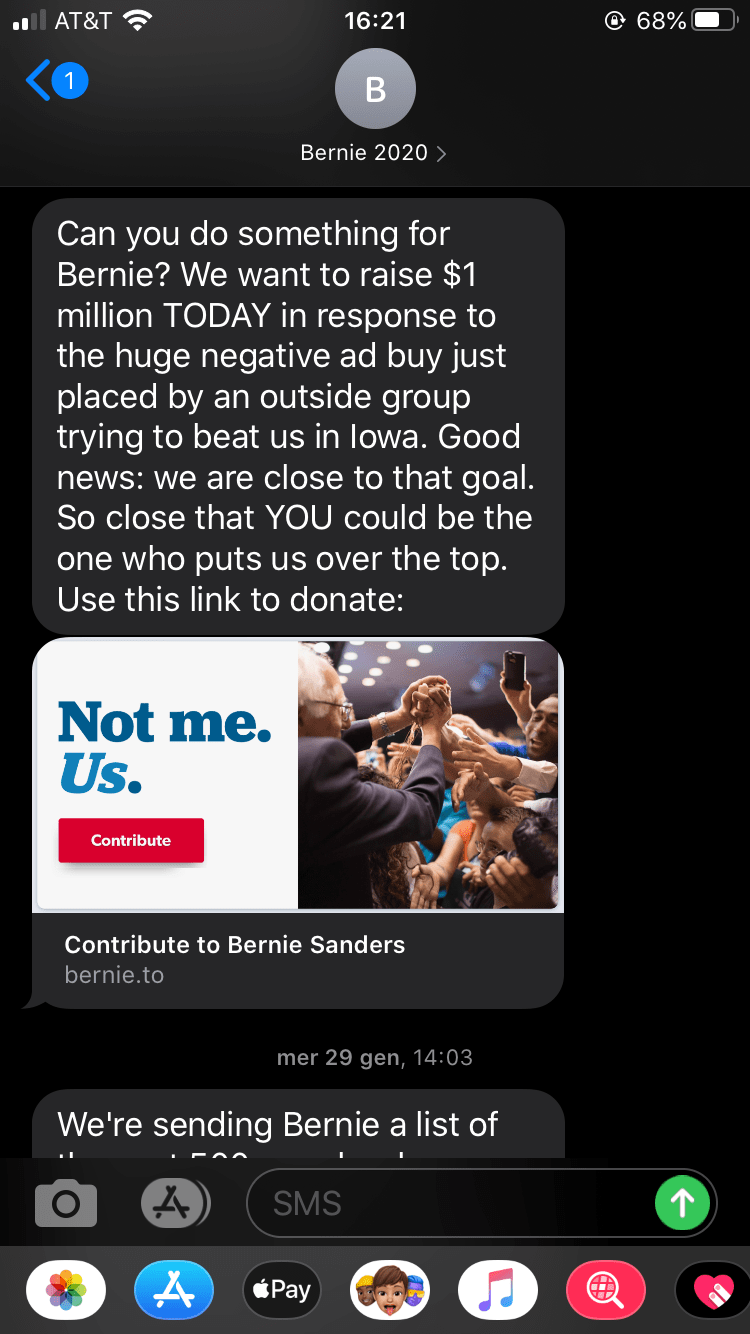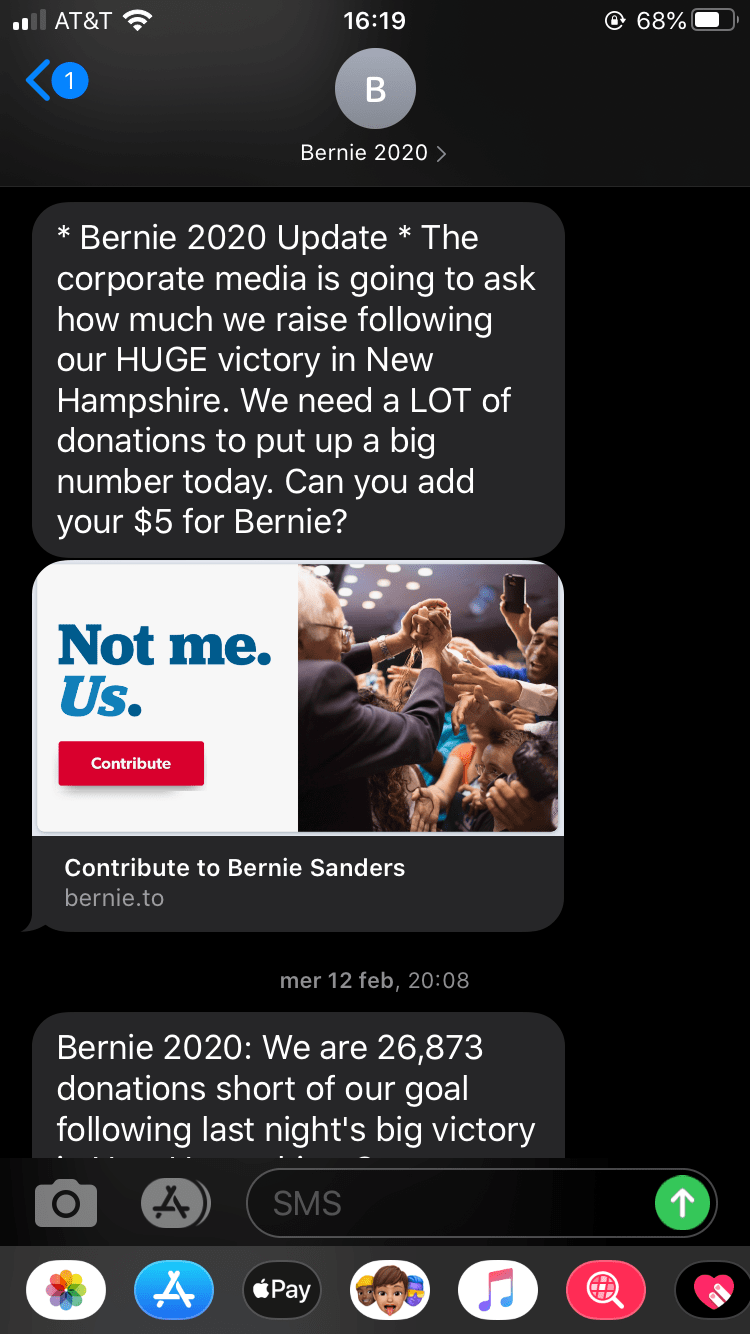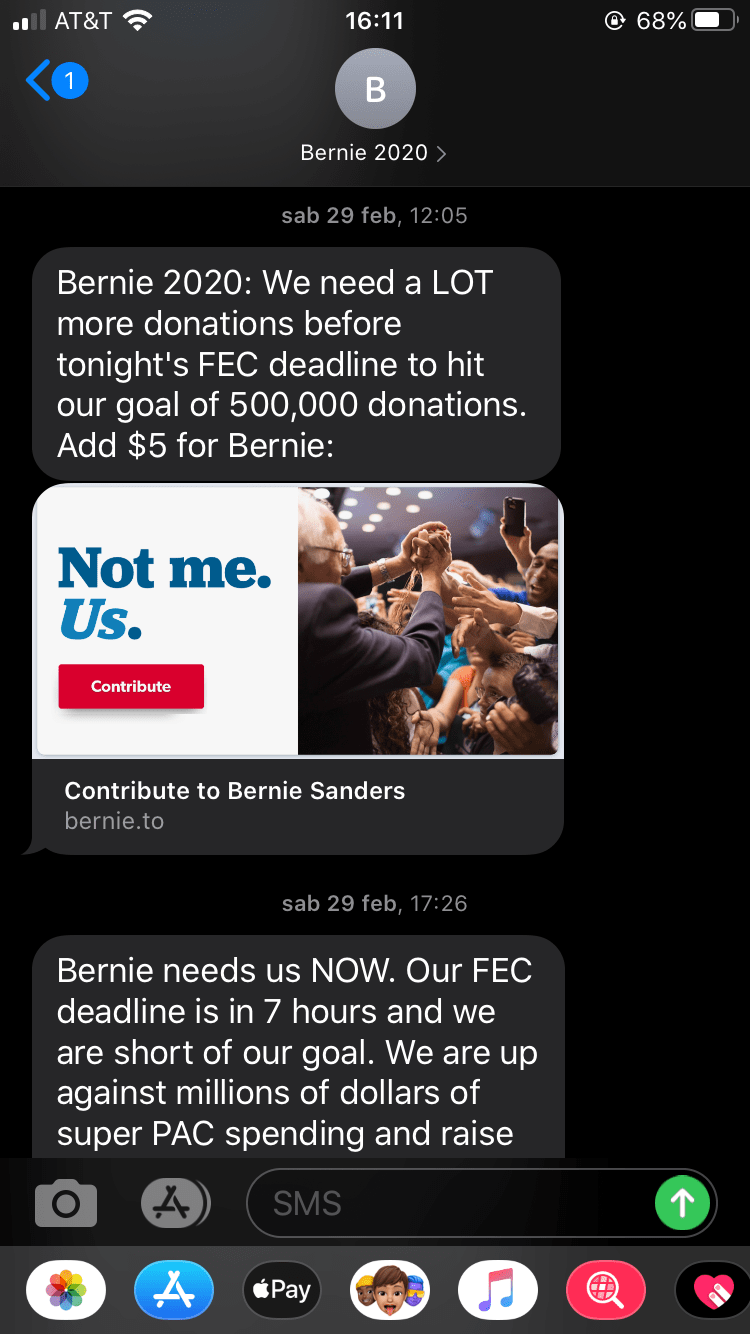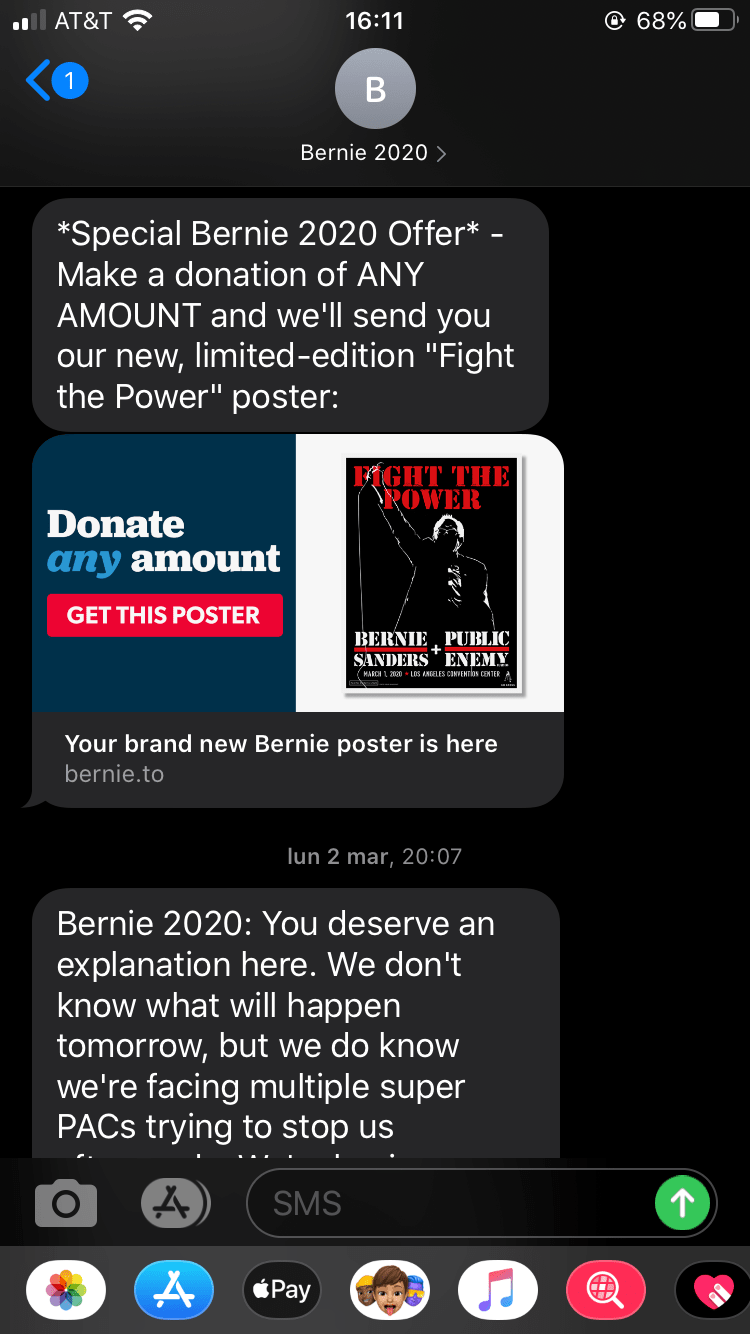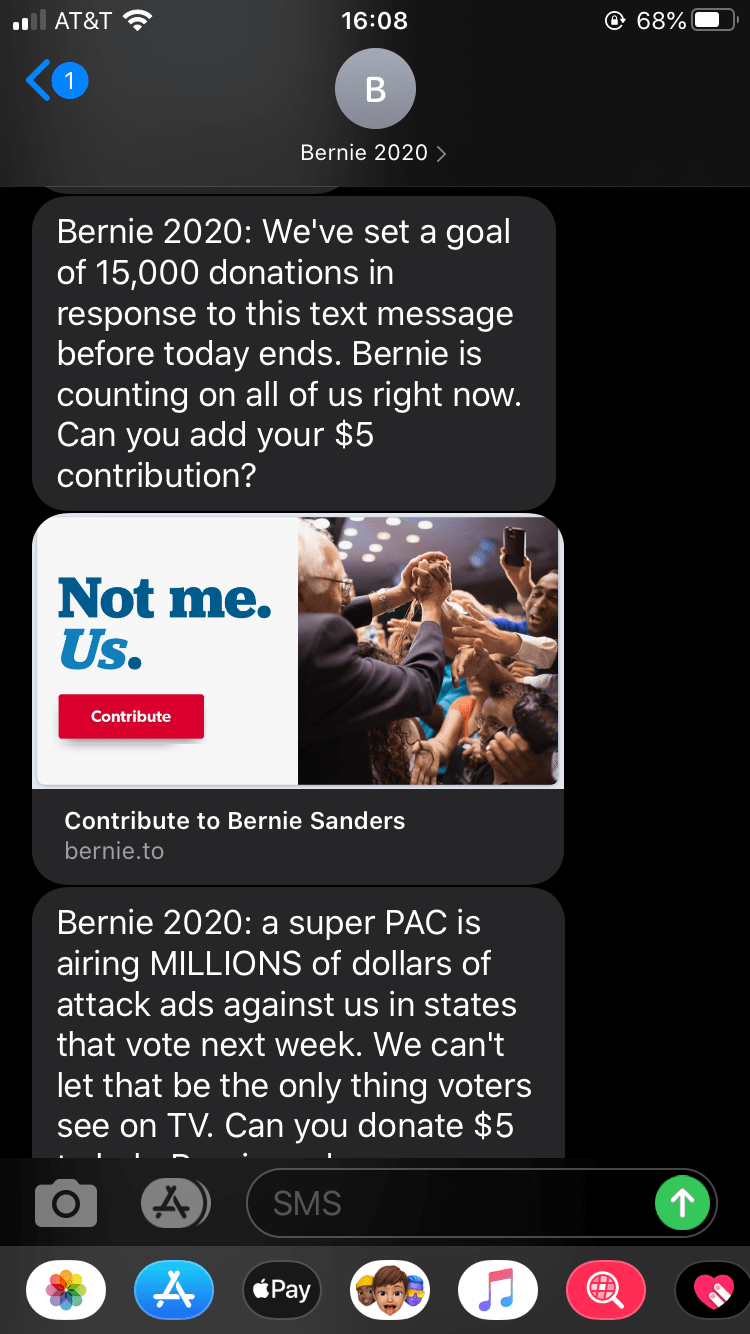 Direct Response Ads
An effective direct response advertising operation is essential to build and maintain a strong small-donor fundraising program. Our team ran one of the largest online acquisition programs to grow Bernie's base of supporters online and re-engage existing supporters, which ultimately made it possible to set new fundraising records for a presidential primary. We also managed direct response ad creative in house.
In the primary campaign, our direct response ads brought in more than 1.93 million new names on a budget of $17.8 million, raising an immediate $20.9 million for an immediate positive ROI of 118%.
Over the course of the primary, ads generated 22.5% of total fundraising revenues and 61.5% of new names acquired converted to donors.
Over their lifetime on our email list, these names made over 1.27 million donations and generated an additional $23.4 million dollars, nearly 30% of the total funds raised via email.
Aisle 518 wrote and worked with the campaign to produce frequent videos of the candidate direct-to-camera which drove up both direct response program scale and ROI, particularly around end of quarter deadlines, and consistently brought in efficient new names on a variety of ad platforms, including Facebook, Instagram, YouTube and Reddit.
In addition to generating new names, our direct response program also helped maximize the potential of our email list by reactivating inactive 2016 donors and 2020 subscribers who had not yet donated. In fact, one third of all our new-to-list donors were re-subscribers, and those reactivated via donation ads showed a significantly higher average immediate donation (upon reactivation).
---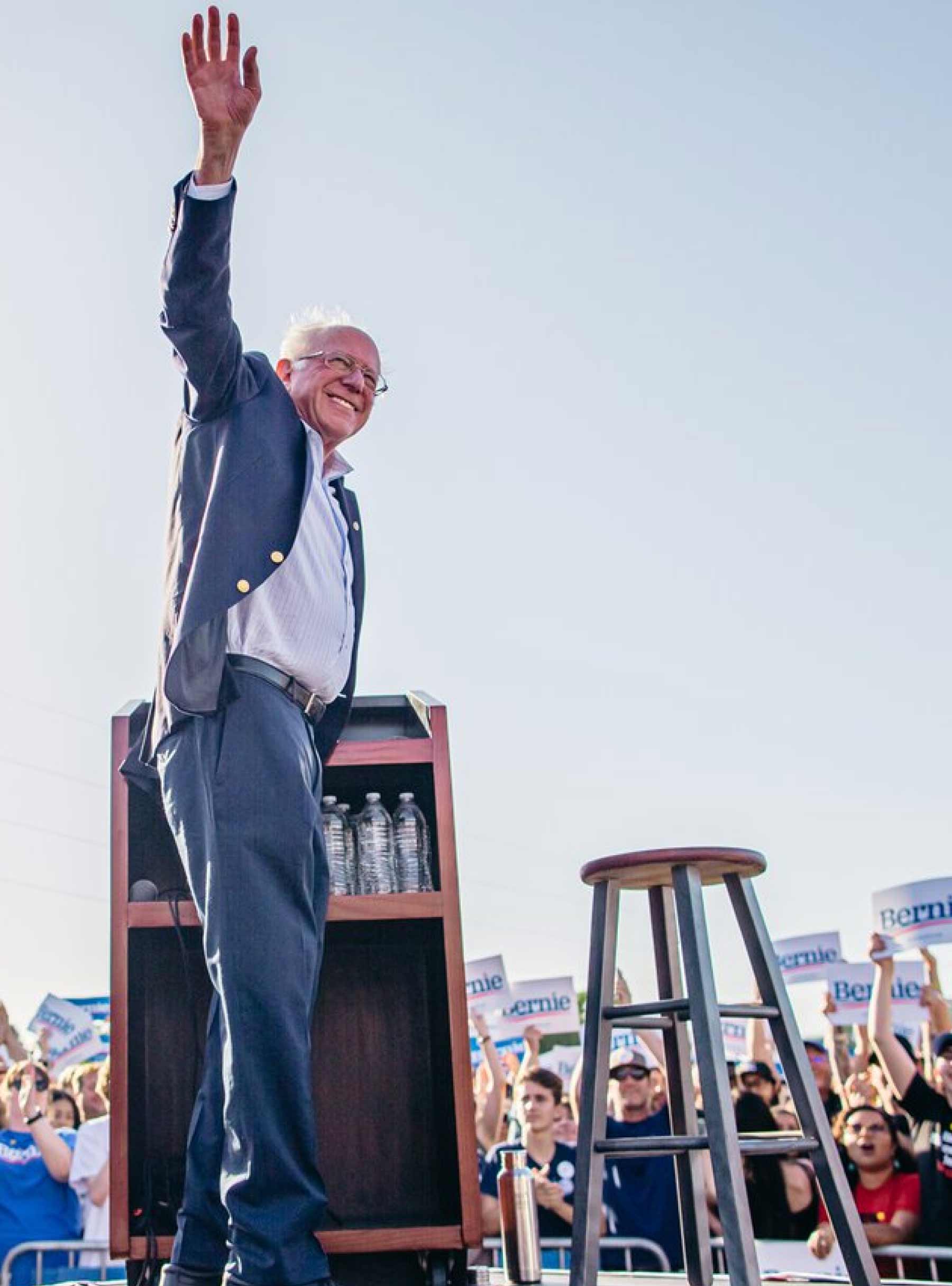 Digital Organizing
In addition to managing the online fundraising operation, we also supported the organizing work happening across the campaign. From turning people out to the largest rallies of the primary to recruiting volunteers to talk to voters and caucus-goers about why they support Bernie, the digital program helped provide a seamless connection between how supporters interacted with the campaign online and on the ground.
More Events

Helped recruit nearly 4,000 hosts for the campaign's organizing kickoff April 2019

More People

Turned people out to huge rallies over the course of the primary

More Efficiently

Worked closely with state and national organizing staff connecting supporters to volunteer actions nationwide
Event Building
Our team recruited attendees for some of the largest events of the primary.
16,000+
San Francisco, CA
---
Persuasion &
Motivation
Breaking Through in Early States and California
Building a robust persuasion and motivation program for voters in the early states of Iowa, New Hampshire, Nevada and California was our first assignment. Having won or been highly competitive in each during 2016, expectations were sky high this time around. If Bernie didn't win or tie in 2020, we knew the rest of the primary could easily slip away before it started.
We needed to organize our existing supporters, find new supporters and turn out every single person possible to get there - and do it amidst a busy communications landscape.
Massive, Culturally Competent Latinx and Spanish-Language Outreach Programs
Bernie 2020 ran the largest Latino outreach campaign ever, including the largest Latino and Spanish language digital advertising programs in history.
According to CNN entrance and exit polls, Bernie Sanders achieved massive Latino community margins that propelled him to wins in the first three states and California.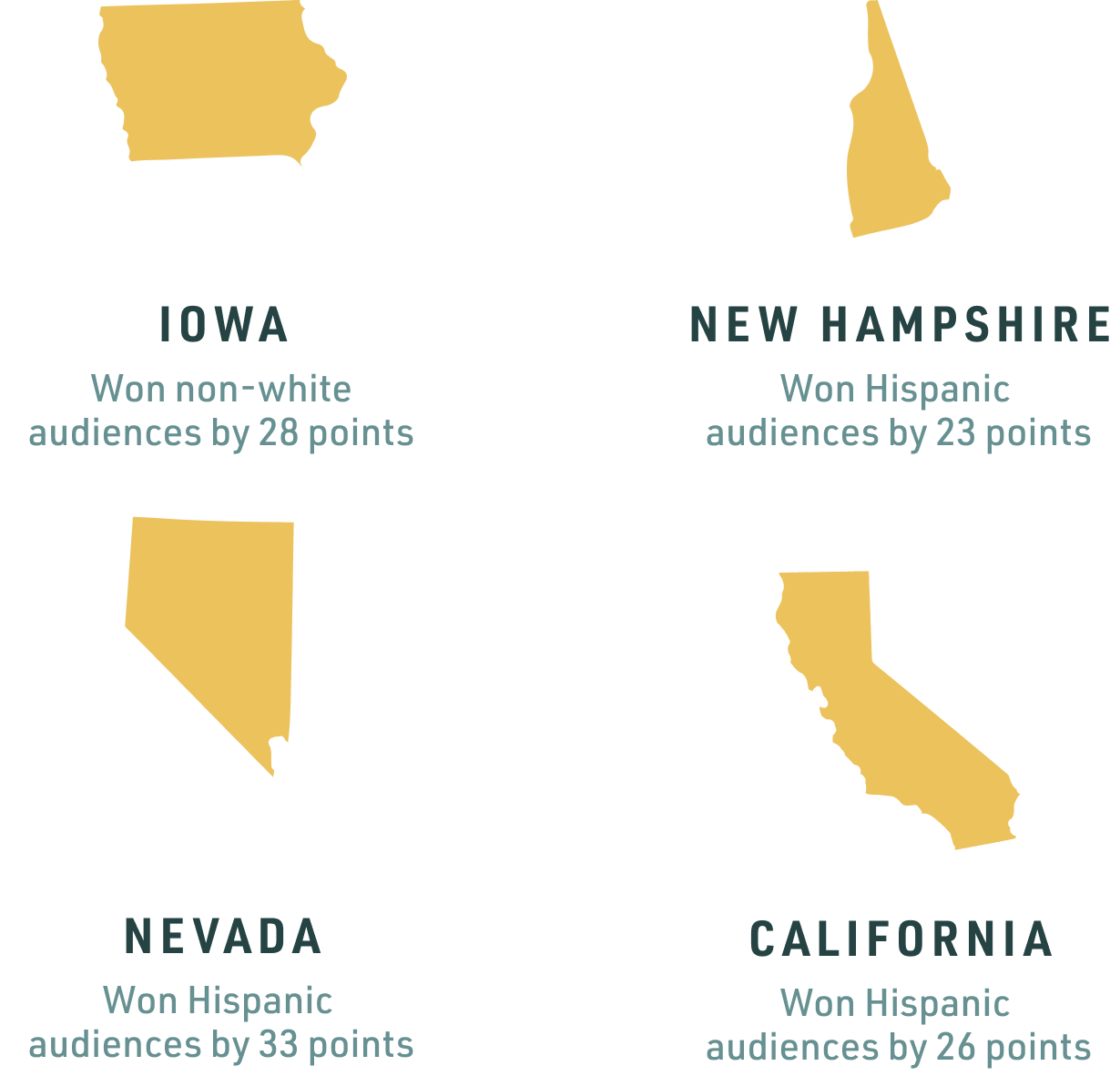 Impact Measurement and Creative Testing
Aisle 518 Strategies uses several digital survey tools and solutions to deliver creative and impact measurement across varied media placements and tactics. For the Bernie 2020 campaign, we delivered real-time impact data via a custom YouTube Brand Lift dashboard. Brand Lift allowed the campaign to measure the in-market impact of its spots, messengers and messages to make sure we used the most impactful creative.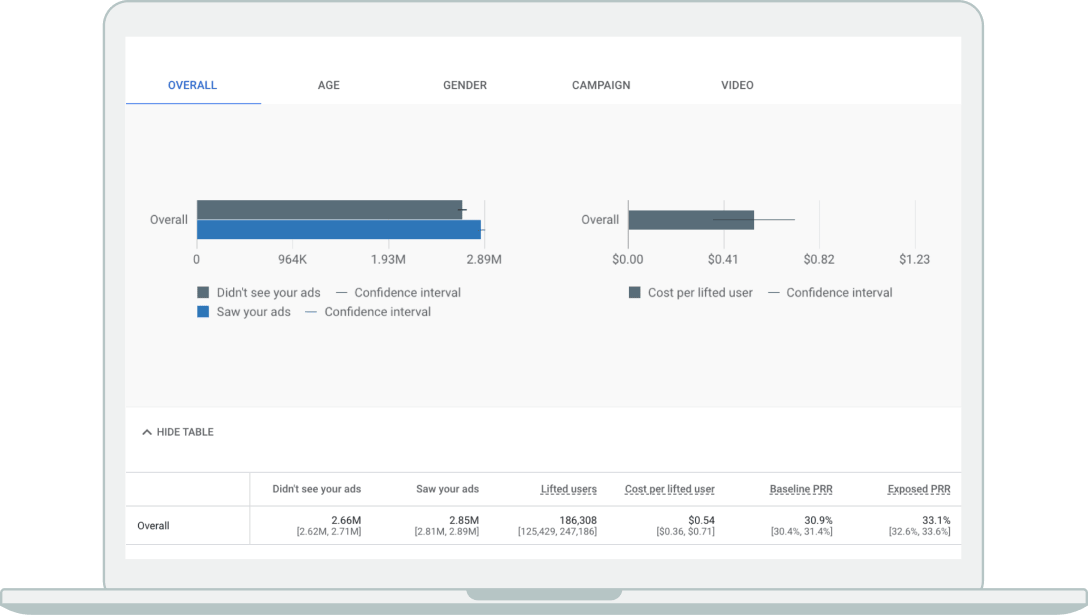 The campaign's creative team produced a wide variety of impactful long form videos and shorter spots for deployment in each state. We conducted creative tests and ongoing impact measurements allowing us to optimize creative for audience impact and deliver strategic insights to the campaign.
Iowa's Most Persuasive Ads
(General Market, English-Language)
Iowa's Most Persuasive Ads
(Younger Audiences, English-Language)
New Hampshire Most Persuasive Ad
(English-Language)
Nevada Most Persuasive Ad
(English-Language)
Nevada Most Persuasive Ad
(Spanish-Language)
In late October 2019, the RCP polling average had Bernie in 4th place behind Buttigieg, Warren and Biden in Iowa. Alexandria Ocasio-Cortez (AOC) had recently endorsed Bernie.
In Aisle 518 Strategies' testing of the AOC endorsement ad in Iowa, voters under the age of 50 had increased consideration of Bernie by 17 points and increased vote choice by 4 points. This was the most impressive movement we had seen in the campaign thus far from a single ad.
To capitalize on this moment and movement, we recommended an increased investment in Iowa digital toward reaching these audiences and an increase in creative rotation of the AOC creative. This was combined with a shift away from other creative that wasn't performing as well.
Four weeks after the campaign implemented these recommendations, Bernie had gone from 4th place to 2nd behind only Buttigieg.
Audience Targeting
Our coalition for persuasion and motivation was composed primarily of younger voters under age 50, Latinx voters of all ages, progressives, non-college educated voters, independents and the Muslim community. In addition to reaching modeled 1:1 targeted persuasion and motivation universes, we took a layered approach to our ad targeting, using a mixture of language targeting, social interest, lookalike and affinity data, content and intent-based targeting, geographic behavior targeting, and demographic and indexed zip-code targeting to reach our audiences.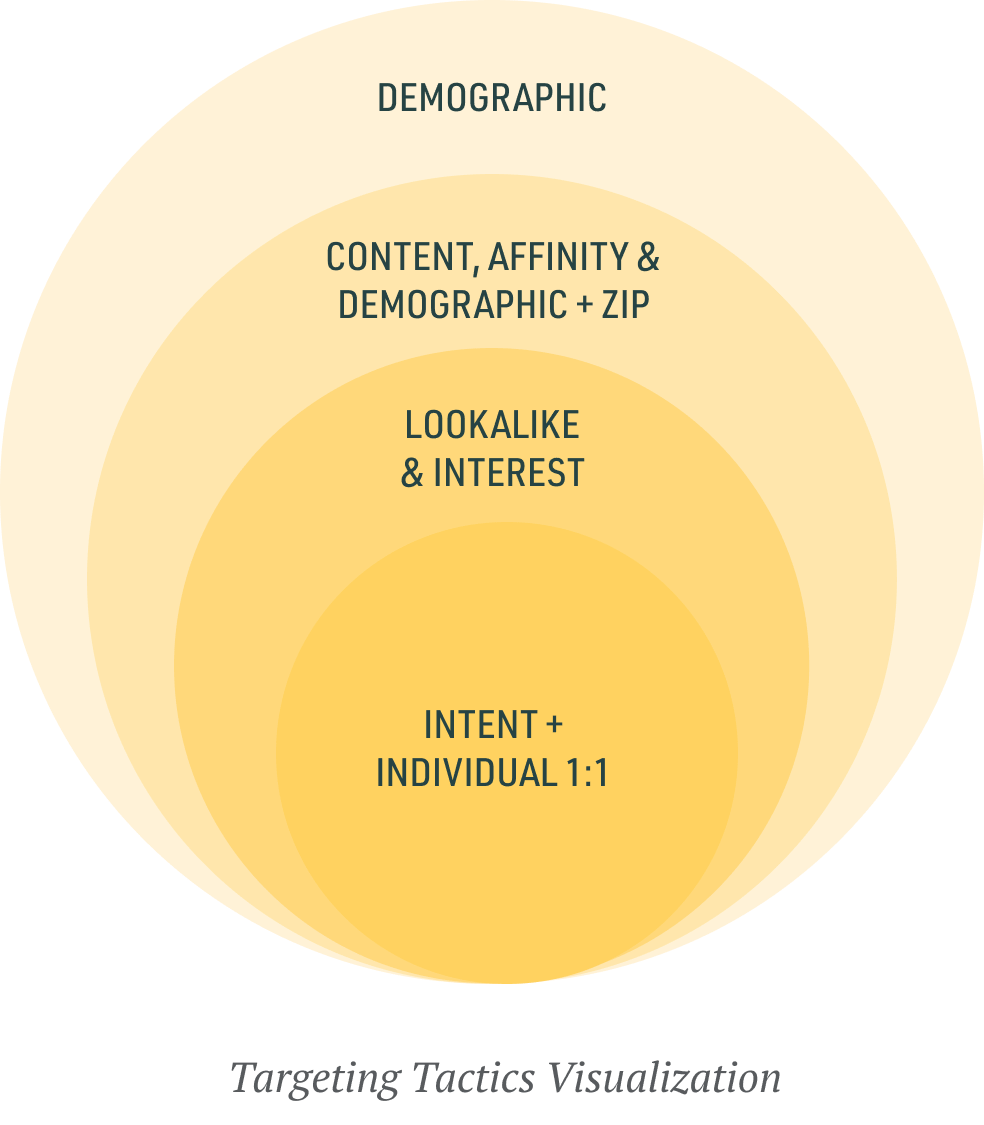 Reaching and Impacting Voters on All Screens
We ran aggressive cross-screen campaigns that invested heavily in Connected-TV (CTV), Over-the-Top (OTT), Full Episode Player (FEP), Programmatic and Social video placements. Media was planned to deliver an impactful weekly message frequency and to maximize viewability and reach in our targeted audiences.
Driving Digital-Only Impact
In Iowa, in fringe TV markets where there was no live TV, we ran higher reach and frequency campaigns to drive voter impact. In October 2019, after one month of advertising, voters in fringe media markets where we ran digital but not TV had moved +14 points versus an average of +4 points overall statewide.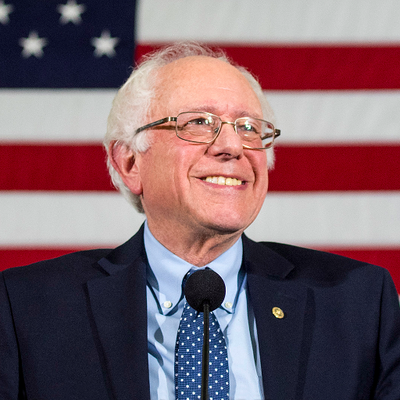 to me